Why use an insulation expert? Because when insulation isn't installed correctly things happen!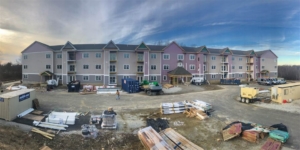 The Green Cocoon received a call from the manager of an apartment complex because they had frozen pipes in the attic. What we discovered was that the insulation was placed incorrectly, and they didn't add enough of it over the pipes. Consequently, the pipes were freezing.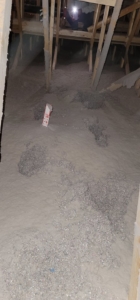 Difficult location
The pipes were in the far back corner of the very large attic. So our VP Candace was the lucky one who got to walk on a small 2 x 4 catwalk to find the problem. And she did! Just take a look at how dirty she got after crawling around in the cellulose!
Cover your tracks
It is very important to cover your tracks after walking in cellulose insulation. Candace made sure she did just that! If not covered, all of the holes created by her footprints would leave cold spots.
Use an expert
Whether you are building an apartment complex or updating the insulation in your attic, make sure to use an insulation expert. Your wallet will thank you!