The Green Cocoon
For the People,
with the Planet in Mind.
We have a spotless reputation
for leaving your place spotless.
We install insulation while leaving your place as clean as we found it. Many insulation contractors can't say that.
Home & Commercial Insulation for MA, NH & ME
Conscious Environmental Comfort
Looking to make your home or business as cozy and energy efficient as it can possibly be? Get wrapped up in The Green Cocoon, an award-winning environmental comfort specialist delivering energy-efficient, eco-friendly insulation solutions to residences and businesses throughout Massachusetts, New Hampshire, and Maine.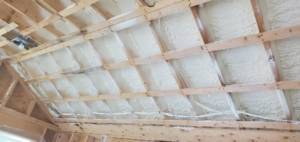 We've long been the go-to source for all of your insulation needs, pushing the bounds of high-quality product and service standards in our industry to give you, the customer, the best value and safety for your money. 
From spray foam, cellulose, and fiberglass – we've got the insulation solution to best fit your comfort needs and the growing needs of sustaining a healthy environment as well. A warmer and/or cooler home, a greener earth, and more green in your wallet, that's winning from all vantage points.
For all your insulation needs, think The Green Cocoon.
... absolutely easy, customer oriented, competitively priced
"We recently had The Green Cocoon spray foam the attic spaces in our home. The entire process was absolutely easy, customer oriented, competitively priced and the execution was very good. We choose to go on vacation while the installation was in progress and our house was left behind spotless after they were done working. Thank you!"
Christian Zangenberg, Durham, NH
People, Planet, Performance
Always be positive.​
Believe in yourself.​
Empower your team.
Make an impression that counts.
Always do what you say you will do.