Whether you're building a new home or making an older one more energy efficient, tracing and reducing air leaks can help you save you money. One way to trace and reduce air leaks is with a blower door test. We are thrilled that we were able to help one of our clients find the air leakage!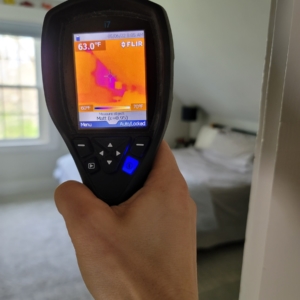 Blower Door Number Reduced
In order to trace and reduce air leaks, a blower door test was needed. Our pre-insulation blower door test number was 3,132 CFM (cubic feet per minute). After we insulated and air-sealed the space, the number was 2,009 CFM. We reduced it by 1,123 CFM or 35 percent! This is pretty exciting because the Building Performance Institute says that 1 square inch of air leakage is equal to about 10 CFM1. So that's 112 square inches, which is an almost a full-sized open window! With that amount of reduced CFM, our customer will see a drastic improvement in his heating bill this winter.
Purpose of Blower Door Test
The purpose of Blower Door Testing is to measure the air tightness of a home and check for air leakage. A blower door is a powerful fan that mounts into the frame of an exterior door. The fan pulls air out of the house, lowering the air pressure inside. The higher outside air pressure then flows in through all unsealed cracks and openings. Learn more about Why You Need Blower Door Testing
Reducing Greenhouse Gas Emissions
Recently, we teamed up with York EcoHomes. A York EcoHome is a York (Maine) household that commits to receiving and considering Eco-Friendly actions that will reduce its greenhouse gas emissions. They are also a program of York Ready for Climate Action, a great way for residents to help accomplish the Town of York's goal of 50 percent reduction in greenhouse gases by 2030.
Insulation Savings Programs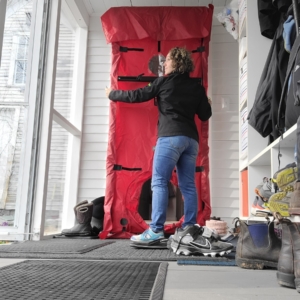 The Green Cocoon is the go-to insulation company for programs like York EcoHome and Efficiency Maine. Efficiency Maine is the administrator for programs to improve the efficiency of energy use and reduce greenhouse gases in Maine. Luckily, one of our customers lives in York, Maine, and was able to take advantage of the insulation savings programs.
Visit our website, thegreencocoon.com, to learn how we can save you money by insulating your home.
---
[1] Building Performance Institute, Inc. Technically Speaking: What the Blower Door Test Tells You. (Nov. 9, 2017). Bpihomeowner.org