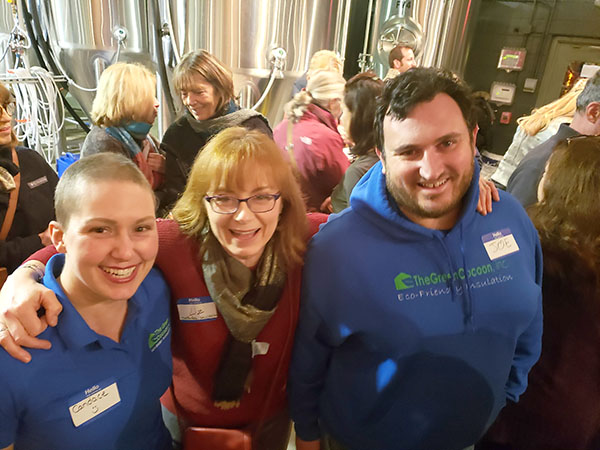 On Thursday, December 11, Candace Lord and Joe Marino, vice president and salesperson for The Green Cocoon, attended The Green Alliance's second annual holiday party. The jam-packed event was held at the Great Rhythm Brewing Company in Portsmouth. Over 100 members and guests attended.
Purpose of The Green Alliance
The Green Cocoon is a member of Green Alliance. Their purpose is to promote local business partners that make serious efforts to operate in a sustainable and environmentally-conscious manner. Furthermore, those business partners offer discounts to Green Alliance Community card-holders. Learn more at https://www.greenalliance.biz/about.
Sales of Artwork Help Fund Research Center
The event was sponsored by Sustainable Seacoast, Blue Ocean Society for Marine Conservation, and the Great Bay Waterkeeper with Conservation Law Foundation. Local artist Ragko showcased his amazing artwork that connected us to water. Sales of his artwork went towards the creation of an independent Huilliche-Mapuche research center in southern Chile.
We stay involved with groups like The Green Alliance to help towards our goal of making little to no negative impact on the environment.