According to Farmers' Almanac (Almanac), we are in for a "Shake, Shiver and Shovel" winter. According to their extended forecasts, this winter season will have plenty of snow, rain, and mush—as well as some record-breaking cold temperatures! With the temperature cooling, it is the perfect time to save money and prepare for the shake, shiver and shovel winter with eco-friendly insulation. Make your home more energy-efficient by replacing your old insulation one of The Green Cocoon's eco-friendly insulations.
The first day of winter and the shortest day of the year, officially arrives on December 21, 2022, but that doesn't always mean that the cold temperatures and snow storms will wait until then. So what's in store for New England? Read on.
According to the Almanac, "The first bite of winter should come earlier than last year's. December 2022 looks stormy and cold nationwide with an active storm pattern developing and hanging around for most of the season over the eastern half of the country." We think there will be a white Christmas this year!
New Hampshire Known for Crazy Weather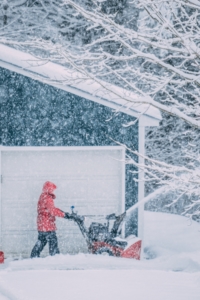 If you live in New Hampshire, you are no stranger to crazy winter weather. According to NOAA's National Centers for Environmental Information, the coldest temperature on record in New Hampshire (-50°F) was on January 22, 1885. That was at the summit of Mount Washington. Likewise, many winters in New Hampshire bring snow, rain, ice, and chilly temps.
A well-insulated home is crucial, especially the week of January 16-23, 2023. The Almanac raises a red flag for bouts of heavy rain and snow across the eastern two-thirds of the country. Additionally, this will be followed by what might be one of the coldest outbreaks of arctic air they have seen in several years. How cold? Try 40 degrees below zero!
Use Eco-Friendly Building Insulation
Many homeowners don't realize how effective insulation can be at making their homes more comfortable and efficient. Insulation in key areas like the attic, basement, and exterior walls slows heat transfer in and out of the home. This means that in the winter, your expensive and valuable heat stays inside your home, right where you want it. Cellulose and spray foam insulations are especially effective insulation materials.
With the right insulation upgrades, you can expect benefits like:
Fewer drafts and cold spots
Warmer floors
Lower annual heating/cooling costs
Enhanced overall comfort
Greater home energy efficiency
Reduced outside noise
When insulation is paired with proper air sealing to eliminate air leaks, the benefits go even further! So don't keep throwing your money out the window. The Green Cocoon has eco-friendly building insulation that comes in various forms. We have what you need!
Contact us to learn more!