When you hear the word intern, what comes to mind? Someone to get you coffee? Someone to do your filing and paperwork? For Mareike Mueller, The Green Cocoon's summer intern, it was a whole different experience. We sat down with Mueller to find out a little bit about her summer internship experience with The Green Cocoon.
Mueller is a student at Wheaton College in Norton, Massachusetts, and is studying business and management in the field of digital marketing. Some of her core courses are Fundamentals of Business, Business and Management Responsibility, Accounting, Digital Marketing, and more. Her plans are to graduate in 2024.
Job responsibilities
Mueller's weekly routine consisted of going out to look at jobs for potential customers with our director of sales. She was also able to take photos at various jobs and at the New Hampshire home inspectors' seminar. Mareike also wrote blog posts for the website and generated content ideas for social media posts. Additionally, she created "The Day in the Life at The Green Cocoon" video, soon to be on our YouTube channel.
"This is the first internship where I was truly immersed in the marketing world," said Mueller. "During my summer intern experience, I was able to use my creativity. But by working in a small business, I realized how many aspects of marketing are involved. It isn't just the social media portion. You have the sales part and the networking part."
What was a highlight?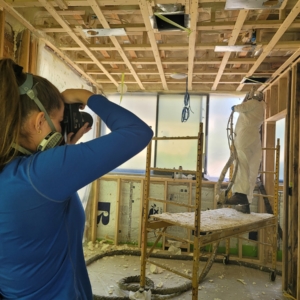 "My favorite piece of this whole experience was the day that I went into Boston," said Mueller. "VP and Director of Sales Candace Lord and I looked at six jobs. I had the opportunity to look at a job the company was currently working on. It was cool to see the guys in full swing, utilizing their skill in spraying. It gave a whole new perspective to what they do at The Green Cocoon. Moreover, I was able to take photos and videos of the guys working, which is something I enjoy a lot."
The benefits of hiring an intern
According to Indeed, there are many benefits to hiring an intern. Here are five:
A larger workforce – Interns are valuable support and help to current employees, even if tasks given to them have modest levels of responsibility. By taking on tasks as an intern, other colleagues can pursue creative or more advanced projects.
Mentorship opportunities – Internship programs give current employees an opportunity to mentor future leaders in the field, and it can promote a healthy work culture and build company morale.
A new perspective – Interns offer a fresh look at a company's day-to-day business and procedures and can share ideas on strategy, plans, policies, and more. As an intern, one can be part of brainstorming sessions and meetings or give input and suggestions to company or internship leaders.
Positive publicity – Communities and industries often commend those who provide internships to the next generation of business people. Companies that offer internships can establish or grow their connections with universities and colleges, increasing their visibility on campuses and ability to recruit other students.
An employee candidate pool – Companies can select and develop future talent through internships. Furthermore, internships increase staff retention rates, since many interns secure job offers after their internship ends. As a former intern, you assimilate into the new role faster than an external hire might.
Thank you, Mareike, for all of your hard work. You always have a home with us!
If your company is interested in hiring an intern and have questions regarding the process, feel free to reach out. We will get back to you.
To learn more about The Green Cocoon, visit our website, thegreencocoon.com.