Looking for Green Insulation? – Get Wrapped up in the Green Cocoon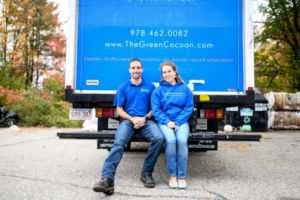 By GREEN ALLIANCE | Published: JUNE 6, 2019
The Green Cocoon is an award winning environmental comfort specialist that delivers energy-efficient, eco-friendly insulation solutions to residences and businesses throughout Massachusetts, New Hampshire, and Maine.
Husband and wife team Jim Materkowski and Candace Lord founded the Green Cocoon in 2007, with a goal of bringing an environmental solution to insulation.