Incorrectly installed basement insulation is a common error. We see this problem not only with do-it-yourself installation, but also with contractor installation. The results can be disastrous as severe mold and mildew may become a problem, not to mention the loss of money on your heating bill. This is why we beg you, "don't make these basement insulation mistakes."
Use Treated Lumber
Since most basements are inherently moist, you need to keep all untreated wood away from the concrete surfaces. Moisture below the slab can wick up into the concrete and get to the base plates of the wall. Therefore, you need to make certain the bottom plate of the wall is treated lumber.
Avoid Using Fiberglass Insulation in Basements
As seen in the photo above, putting polyethylene over fiberglass insulation is a no-no as it doesn't allow the insulation to breathe. Consequently, this homeowner had moisture build-up and ultimately mold growth!
For years contractors have been treating basements much like regular living space. It's not uncommon to see fiberglass insulation in direct contact with basement foundation walls. Here in the northeast, we see several common mistakes, including:
Plastic vapor barrier against concrete wall, fiberglass insulation inside stud wall, then drywall
Fiberglass insulation inside a "bag" hanging from the rim joist down along the foundation wall
Stud wall filled with fiberglass insulation an inch or two away from the concrete wall[1]
Those mistakes can increase the chances for mold to grow.
What Causes Mold to Grow in Basements?
Mold can grow on virtually any organic material as long as it has the right moisture level and oxygen. Because mold eats or digests what it is growing on, it can damage a building and its furnishings. If left unchecked, mold eventually can cause structural damage to building materials and can cause health problems. That's why we don't want mold in our basements! Specifically, we can prevent damage to buildings and building contents in the basement areas, save money, and avoid these potential health problems by controlling moisture.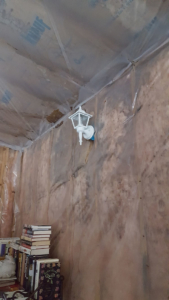 According to the EPA, indoor relative humidity in homes should be kept below 60 percent — ideally between 30 and 50 percent. [2] In addition to preventing mold formation, maintaining the correct humidity levels may also have a bonus effect. It may discourage pests such as cockroaches, silverfish (bristletails), and dust mites from showing up where you don't want them!
To measure the humidity of your home or basement, you need to buy a humidity meter and track the relative humidity level. That is the first part of understanding the mold problem in your home or basement.
Education Needed
If contractors are still using fiberglass insulation in basements, it means that we in the industry need to do a better job educating our builders. In order to understand the issues with basement insulation, you first must understand the role of vapor barriers in basements.
Use the Right Insulation
Over the years, we've come to rely on two main approaches for basement insulation projects and remodeling, including closed cell spray foam and rigid foam board. When installed in the correct thickness, these two methods result in a proper vapor barrier and superior insulation.
Get Educated – Be the Pro!
Today, the building industry and building science are changing rapidly. In order to stand out in the competition and provide a professional service to your clients, you need to stay educated on the latest methods. You can be sure that the team at The Green Cocoon is up-to-date on the latest insulation practices in order to bring our clients the best product possible.
If you have questions or need a quote on your next insulation project, contact us and we'd be happy to help.
---
[1] Be the Pro. Avoiding Basement Insulation Mistakes. Retrieved from bethepro.com.
[2] United States Environmental Protection Agency. Mold Course Chapter 2. Retrieved from epa.gov.