How safe is it to re-enter my home after installing Icynene® spray foam?
Homeowners and building managers often ask us about a product called Icynene, a liquid spray foam insulation. Icynene Inc. claims people can re-enter the building one hour after installation. We decided to investigate that claim for ourselves.
The Green Cocoon follows OSHA's and the manufacturers' guidelines when using spray foam insulation. Those guidelines state that re-entry should only happen 24 hours after installation has been completed.
Let's Do Some Math
According to icynene.com, "Low VOC Icynene Classic Max and Icynene ProSeal spray foam products allow for re-entry after 1 hour and re-occupancy after 2 hours of active ventilation (at 40 ACH) following installation, allowing for minimal impact on construction schedules."
Let's have a look at 40 ACH (40 air changes per hour). Take a small, 2-story house that has a 24' x 36' footprint, which is 864 square feet. If we figure it has two stories at 8 feet tall, the basement is 8 feet tall, and the band joists are 1 foot tall, that's an overall height of 25 feet.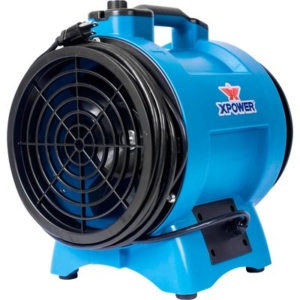 Now let's take the square footage (864 feet) times the overall height (25 feet) and you've got 21,600 cubic feet. When multiplied by 40 ACH, you will have to move 864,000 cubic feet of air in an hour!
If we take the cubic feet of air moved in an hour and divide it by 60 minutes, we calculate that we'll need to move 14,400 cubic feet of air per minute. That takes some pretty big fans, but the average insulation company uses fans that move 2,500 cfm of air (like the one in the photo). That means that you have to have six of these fans running while you are spraying and you'll need to leave them running for an hour once you finish spraying. And this is on a small house! The larger the house, the more fans you will need!
TGC regularly works on homes that would require 12 or more fans to hit the number. That is a lot of fans to purchase, set up, take down, and move around from job to job.
Safety First
Ask your contractor how many and what size fans they are planning to use if they install Icynene. We suggest you stop by the home and take a peek to make sure the contractor uses the right number of fans needed (see math above). Your safety should come first.
TGC chooses not to offer Icynene spray foam as Icynene reps are only allowed to spray Icynene. TGC is an independent spray foam insulation company, so we spray the product that we think is the greenest and safest for our customers. We don't like to be pigeon-holed into using one product that might not be the best fit.
Before you purchase any spray foam insulation, get a second opinion from The Green Cocoon.