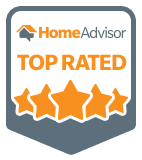 The Green Cocoon, LLC. (TGC) is excited to announce that it was awarded HomeAdvisor's "Top-Rated Professional" badge. HomeAdvisor gave TGC the award for having a 4.9 out of 5-star rating, among other criteria below.
"Thank you to our incredible team and wonderful customers," said Jim Materkowski, President and owner of TGC. "These badges aren't given out to just any company. Not to mention you must meet certain criteria to receive this award."
What Must a Business Do to Merit a "Top Rated Professional" Badge?
HomeAdvisor lays out a specific set of guidelines that a business must meet to receive permission to display a badge. Moreover, how does a business earn the title "Top Rated Professional?" HomeAdvisor requires that a business have:
A minimum of five reviews
A minimum overall rating of 4.0 or better (we have a 4.9 rating!)
More than 90% of homeowners that leave you a review would recommend you
No homeowner complaints
Reviews only from homeowners you've done work for
Customers' Feedback Is Important
In summary, The Green Cocoon is constantly striving to bring its customers the fastest, most efficient, and friendliest service. The team at TGC pays close attention to customers' feedback. Furthermore, badges like these show us that the company is headed in the right direction.
View TGC's HomeAdvisor profile and reviews.
Contact us for fast, efficient, and friendly insulation services you can trust!